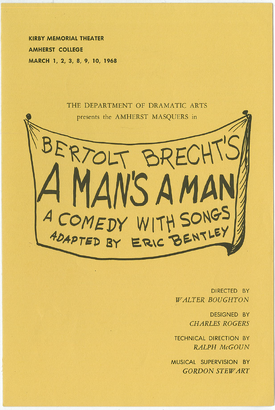 Description
Edit
"Jim Steinman wrote the score for an exciting version of Bertolt Brecht's "A Man's A Man" that was done by the Amherst Masquers, and which featured a show-stopping performance by Sarah Harris, a Smith student, singing a song called 'Ganges River' (which was later recycled into "The Dream Engine" as 'Mother River')." --Stephen Collins
A Man's a Man was performed by the Amherst Masquers at Kirby Theater from March 1-3 and 8-10 1968.
The place: India?
The time: Yesterday, today and probably, God help us, tomorrow
Cast and Crew
Edit
Galy Gay, a water front porter - David Stewart
Sergeant Charles "Bloody Five" Fairchild - Brock Putnam
Corporal Uriah Shelly - Craig Dunkerley
Private Jeraiah Jip - William Hart
Private Polly Baker - Morrison Webb
Private Jesse Mahoney - Hugh Laurence
Mister Wang - George Bentley
Soldiers - Jay Alberts, Jonathan Alper, Robert A. Brown, Elisha Ignatoff, Robert Jacobs, Drew Kalter
Mrs. Gay - Vicky Casarett
Widow Begbick - Sarah Harris
Agatha - Susan Hannigan
Jenny - Meri Golden
Jobia - Lindsay Maracotta

Creative Team
Edit
Written by Bertolt Brecht
Adapted by Eric Bentley

Directed by Walter Boughton
Designed by Charles Rogers
Technical direction by Ralph McGoun
Musical supervision by Gordon Stewart
Music and lyrics written and/or adapted by Jim Steinman
Arranged and played by "The Leaves of Grass":
Lead guitar - Jeff Southworth
Rhythm guitar - John Anderson
Drums - Craig McNeer
Bass - Rick Weinhaus
Organ - Jim Steinman
Stage manager - Thomas Miller
Assistant stage manager - David Rimmer
Lighting technicians - Stephen Barker, Peter Harvard, Christopher Jones
Sound technicians - Bruce Bayne, Robert Stratton
Stagehands - Jonathan Alper, John Bean, Stephen Collins, Andrew Eustis, Brock Putnam, Thomas Hoadley, David Rimmer, Barry Keating, Mike Kapinos, Ann Millman, Louis Holekamp, Morrison Webb
Costumes - Miss Colleen Callahan, Peter Harvard, Mrs. George Kidder, Mrs. King Turgeon, Mrs. Kingsley Perry, Mrs. Leroy Metcalf, Mrs. Vincent Morgan, Mrs. David Stewart, Mrs. Charles Ward
Business team - Bruce Boyer, Andrew Goldman, Colin Hasse, Paul Mintzer
Special thanks to Mr. Oliver M. Knode and Kappa Theta for the loan of properties.
Ad blocker interference detected!
Wikia is a free-to-use site that makes money from advertising. We have a modified experience for viewers using ad blockers

Wikia is not accessible if you've made further modifications. Remove the custom ad blocker rule(s) and the page will load as expected.