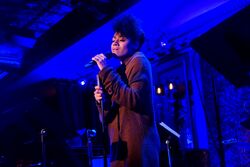 Biography
Edit
Ariana DeBose currently resides in NYC where you can catch her as "the Bullet" in Hamilton an American Musical playing the Richard Rogers theatre. Prior to that she completed the Off Broadway run of HAMILTON at the Public Theatre. She appeared in the Tony Winning revival of Pippin as a Leading Player, directed by Diane Paulus. In the 2013 Broadway season she originated the role of Mary Wilson of the Supremes (Diana Ross cover) in Motown the Musical & Nautica in Andy Blankenbuhler's Bring It On the Musical. Her Television credits include The Breaks for VH1 (Yvette), Blue Bloods (Sophia Ortiz), OLTL, & SYTYCD season 6 Top 20 contestants.
She made her New York debut in Steven Sondheim's COMPANY with the New York Philharmonic, conducted by Paul Gemigani, starring Neil Patrick Harris, Martha Plimpton of Raising Hope, Christina Hendricks of Mad Men, Stephen Colbert, and the great Patti LuPone. The show played in movie theatres across America in June 2011 & is now available for purchase on DVD.
Ariana received her original dance training at CC & Co. Dance Complex in Raleigh, NC and has worked with numerous choreographers from New York to Los Angeles. Some of these include: Tabitha and Napoleon D'umo, Tyce Diorio & Martha Nichols of So You Think You Can Dance, Wes Veldink, Josh Bergasse, Joe Lanteri, and Elizabeth Parkinson. She has also worked extensively with the faculty of the Western Carolina University's Triple Arts Broadway Series- including Christopher and Kelly Crandall Damboise, Terrence Mann and Charlotte Damboise. She is an award winning choreographer and has set work on dance companies, studios, dance teams & color-guards.
Work with Jim Steinman
Edit
Ad blocker interference detected!
Wikia is a free-to-use site that makes money from advertising. We have a modified experience for viewers using ad blockers

Wikia is not accessible if you've made further modifications. Remove the custom ad blocker rule(s) and the page will load as expected.