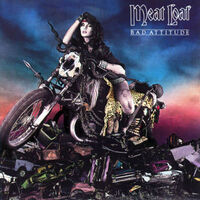 Description
Edit
Bad Attitude is a 1984 album by Meat Loaf. It was produced by Meat Loaf, songwriter/pianist Paul Jacobs, and German engineer Mack, based on source recordings made under producer Alan Shacklock at Abbey Road Studios in London. This album features string arrangements by Jacobs and Paul Buckmaster, and two previously recorded songs by Jim Steinman, "Nowhere Fast" and "Surf's Up."
Steinman's involvement
Edit
According to Meat Loaf's 1999 autobiography, after a certain period of time had passed and legal loose ends were tied up, Meat asked Jim Steinman if he wanted to write another album for him. However, Steinman's long-noted proclivity for taking a long period of time to assemble an album prevented Meat Loaf from working with an album fully made up of Steinman material, instead choosing to record two previously released songs, "Surf's Up" (which appeared on Steinman's Bad for Good) and "Nowhere Fast" (one of Steinman's two contributions to the soundtrack of the film Streets of Fire, though it appears here as an almost completely different song except for the chorus; no concrete explanation was ever given).
Following the European release of the album Bad Attitude, Meat Loaf then reportedly ran into Jim Steinman, who was working on a Bonnie Tyler album, at a studio called the Power Station, where Meat had begun the task of remixing his album for an American release. Loaf alleges that Steinman complemented him on his vocals on the album, and invited him out to his house in Connecticut, which is his version of how Bat Out of Hell II's creative development began.
Bad Attitude
Modern Girl
Piece of the Action
Jumpin' the Gun
Sailor to a Siren
Don't Leave Your Mark on Me
Cheatin' in Your Dreams
Lead Vocals - Meat Loaf
Guitars - Bob Kulick
Guitar Solo (Tracks 4, 6) - Paul Vincent
Bass - John Siegler
Bass (Track 5) - Mo Foster
Piano, Keyboards, Backing Vocals - Paul Jacobs
Fairlight Programming - Steve Rance
Saxophone (Track 7) - Ronnie Asprey
Drums, Percussion, Backing Vocals - Wells Kelly
Drums (Track 4) - Curt Cress
Percussion (Tracks 3, 6) - Frank Ricotti
Featured Male Vocal (Track 1) - Roger Daltrey
Featured Female Vocal (Track 6) - Zee Carling
Female Lead Vocals (Track 2), Backing Vocals - Clare Torry
Backing Vocals - Stephanie de Sykes
Ad blocker interference detected!
Wikia is a free-to-use site that makes money from advertising. We have a modified experience for viewers using ad blockers

Wikia is not accessible if you've made further modifications. Remove the custom ad blocker rule(s) and the page will load as expected.