Description
Edit
Bloodshot Wine was a cabaret show of Jim Steinman songs performed at the Manhattan Theatre Club in the mid-1970s. The phrase "bloodshot wine" is used in the script of Rhinegold. The following is an excerpt of an interview between Pat Cerasaro and Bloodshot Wine performer Andre DeShields[1]:
ADS: I have the fondest memories of it and it laid the groundwork for a second collaboration with Jim Steinman and myself called BLOODSHOT WINE. Now, you can't tell me you know about that show!
PC: Just "Private of Privates"! Tell me everything.
ADS: (Laughs.) Well, I can't tell you everything, but...
PC: Close is good enough!
ADS: It was the first event that opened the cabaret at the Manhattan Theatre Club, back when the Manhattan Theatre Club was on 73rd St. at 1st and 2nd Ave. before it became the stalwart organization that it is now - before AIN'T MISBEHAVIN'.
PC: And AIN'T MISBEHAVIN' established it as a venue, right?
ADS: Yes, AIN'T MISBEHAVIN' established it. But, Jim Steinman and I were in there with BLOODSHOT WINE before AIN'T MISBEHAVIN'.
PC: What was that night like, with BLOODSHOT WINE?
ADS: You know, I always remember the first names of most of the people. I have a program of it somewhere, but I'd have to search it out. From what I can remember, Barry Keating directed. Johanna Albrecht was the lyric soprano. It was very much German Expressionism after Bertolt Brecht. I did a song called "Who'd Do the Dirty?"
PC: What a weird, fun song that is!
ADS: That is from DAS RHINEGOLD. But, it was the beginning of my infamy in New York, because I performed another song by Jim called "Who Needs the Young?"
PC: What a spectacular song!
ADS: Oh, so you know it?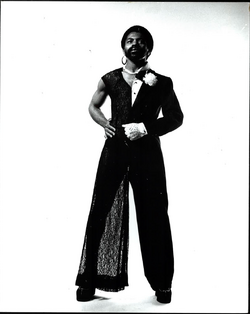 PC: Of course! It's from THE DREAM ENGINE/NEVERLAND and, now, BAT OUT OF HELL.
ADS: Right. OK. So, I performed it originally as a hermaphrodite.
PC: Oh, wow! What was your costume?
ADS: Half of my body was costumed in full, formal tails and top hat. The other half of my body was just in full, formal black lace evening gown. (Pause.) I must say that, judging from the audience's gasps and their overall response, that it was quite a stunning performance.
PC: I bet! It sure sounds it!
ADS: I still have the photo of that event and me in the costume. Ken Howard took the photograph.
Cast and Crew
Edit
NOTE: The following information is combined for Bloodshot Wine and Steinman & Friends, another cabaret show that was performed at the Manhattan Theatre Club in the mid-1970s. As more information becomes available, this section will be updated and hopefully split into two pages.
Director: Barry Keating
Music: Jim Steinman
Lyrics: Jim Steinman, Barry Keating, Michael Weller, Ray Errol Fox

Performers:
Andre DeShields
Johanna Albrecht
Meat Loaf
Ellen Foley
Jim Steinman
Barry Keating
Dale Soules
Dorian Harewood

Ad blocker interference detected!
Wikia is a free-to-use site that makes money from advertising. We have a modified experience for viewers using ad blockers

Wikia is not accessible if you've made further modifications. Remove the custom ad blocker rule(s) and the page will load as expected.