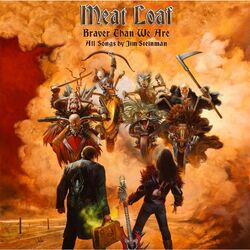 Description
Edit
Braver Than We Are is an album by Meat Loaf with songs by Jim Steinman, released in September 2016.
Track listing
Edit
iTunes bonus tracks:
I'd Do Anything for Love (Demo)
Dirty Water (Demo)
Prize Fight Lover (Demo)
Who Needs the Young? (Demo)
Going All the Way Is Just the Start (Radio Edit)
Target bonus tracks:
For What It's Worth (feat. Stephen Stills)
Prize Fight Lover
I'd Do Anything for Love (Orchestral Version feat. Imelda May)
Barnes & Noble bonus tracks:
Dead Ringer for Love (feat. Imelda May)
The Giving Tree (Live)
Amazon bonus DVD:
Behind the Scenes: Making of Braver Than We Are
(to be filled in later)
Ad blocker interference detected!
Wikia is a free-to-use site that makes money from advertising. We have a modified experience for viewers using ad blockers

Wikia is not accessible if you've made further modifications. Remove the custom ad blocker rule(s) and the page will load as expected.