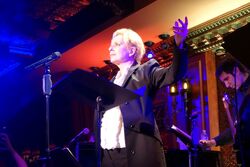 Biography
Edit
Ellen Foley (born June 5, 1951) is an American singer and actress who has appeared on Broadway (Into the Woods) and television (Night Court). In music, she has released four solo albums but is best known for her collaborations with rock singer Meat Loaf. The Clash's hit song "Should I Stay or Should I Go" was written about her.
Work with Jim Steinman
Edit
Ad blocker interference detected!
Wikia is a free-to-use site that makes money from advertising. We have a modified experience for viewers using ad blockers

Wikia is not accessible if you've made further modifications. Remove the custom ad blocker rule(s) and the page will load as expected.