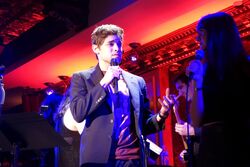 Biography
Edit
Jeremy Michael Jordan (born November 20, 1984) is an American actor and singer. He has performed on Broadway and in television and film, as well as in other theatrical productions. He is best known for the roles of Jack Kelly in the 2012 musical Newsies and Clyde Barrow in the 2011 musical Bonnie & Clyde. He currently plays Winslow "Winn" Schott, Jr. (the son of DC Comics villain character Toyman) on the CBS DC Comics based superhero drama series Supergirl.
Work with Jim Steinman
Edit
Ad blocker interference detected!
Wikia is a free-to-use site that makes money from advertising. We have a modified experience for viewers using ad blockers

Wikia is not accessible if you've made further modifications. Remove the custom ad blocker rule(s) and the page will load as expected.