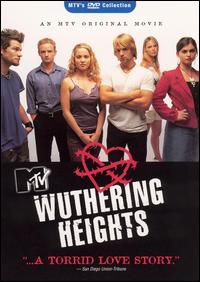 Description
Edit
Wuthering Heights is a 2003 MTV film version of Emily Brontë's book of the same name. Jim Steinman, who calls Wuthering Heights his favorite book, served as executive producer.
Erika Christensen - Cate
Mike Vogel - Heath
Christopher Masterson - Edward
Johnny Wiltworth - Hendrix
Katherine Heigl - Isabel
John Doe - Earnshaw
Aimee Osbourne - Raquel
Director - Suri Krishnamma
Executive Producer - Jim Steinman
Producer - Patricia Knopf, Paul Mason, Donald L. West, J. David Williams, Jon Turtle
Executive Music Producer - Jim Steinman
Soundtrack - Jim Steinman, Hewitt Huntwork, Andrew Eldritch
Other Music - Stephen Trask
Original Screenplay - Jim Steinman, Patricia Knopf
Adapted Screenplay - Max Enscoe, Annie DeYoung
Cinematography - Claudio Chea
Soundtrack
Edit
Tracks 3 and 5 were written by Hewitt Huntwork.
Prelude: The Future Ain't What It Used to Be
I Will Crumble
Shine
Vocals - Erika Christensen, Mike Vogel
Guitars - Pat Thrall, Hewitt Huntwork
Piano - Roy Bittan
Drums - Sammy Merendino
Synthesizer/Programming - Jeff Bova
External Links
Edit
Internet Movie Database (IMDb)
Ad blocker interference detected!
Wikia is a free-to-use site that makes money from advertising. We have a modified experience for viewers using ad blockers

Wikia is not accessible if you've made further modifications. Remove the custom ad blocker rule(s) and the page will load as expected.